reviewed by Chris Martin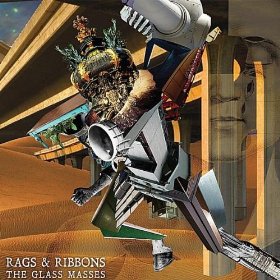 Rags & Ribbons has put together an album of tunes that is a nice listen, but as a whole,
The Glass Masses
falls just a bit flat. I am not saying that there is nothing good about it — far from that, actually. The Portland, Oregon band has put together some nice harmonies, rhythms, and lyrics; however, more times than not, they fail to put them all together on the same songs.
For some nice harmonies, listen to "Have We Been There Before" or "The Minds." The band breaks out heavy guitar action on "Lady In The Midnight Sun," which mixes nicely with the piano, and "Push Back" includes some killer rhythms.
One song that stands out is the final song on the album, "Moving On." Here, Rags & Ribbons has put together the entire package. Powerful vocals are perfectly framed by gentle piano, screaming guitars that build toward the ending, and thumping rhythms. Getting to this tune makes listening to the whole album worth it. Unfortunately, in the mass of bands who are working the pop/New Wave/electronic sound these days,
The Glass Masses
just gets lost in the crowd.
(self-released, no address provided)