http://www.verbicidemagazine.com/2011/02/25/ezra-holbrook-save-yourself/
EZRA HOLBROOK – Save Yourself
reviewed by Dan Chapman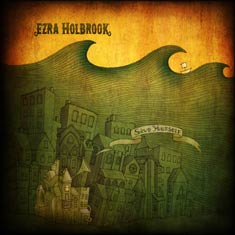 This solo release from Ezra Holbrook, formerly of The Decemberists, seems to be an extremely personal endeavor, but in the best way possible. Light on the ears but heavy on the heart, Holbrook wanders a trail of folk ambiance with lonely instrumentations, and vocal arrangements nothing short of spectacular.
He begins the album with the less attention-grabbing "Save Yourself," establishing early on his affinity for softer folk songs. Even during brighter tracks like "Heart Off of Your Sleeve," the album harbors a sense of natural progression that never tries to impress. This is how the whole album feels in a way: Holbrook never forces the music, but instead invites you to reflect on it with a bending ear. It's effortless. And for those who bend their ears far enough, it will become apparent that this guy has plenty to say. Tracks like "Collide-Oscope" take a philosophical approach, questioning the perfection of being broken: "There's no perfection at all, you might feel like you're broken/but all of those pieces belong where they fall."
Among a few songs there's momentary brilliance, especially on "Another Light Off In The Distance," that sits temporarily with a saxophone gently lifting over a Rhodes piano. That Rhodes feel is pretty consistent in each song, oftentimes giving the impression of music being played in the background that can't be distinguished. This serves as a platform for a fantastic vocal effort, with tracks like "Architect-Archetype" that haunt like a Sufjan Stevens track with eerie two-part harmonies. In rare occasions, Holbrook possesses a Ben Gibbard-like charm; a simple take on vocal ability but lyrical prowess beyond the typical singer-songwriter.
All in all, Ezra Holbrook releases a solid batch of songs in
Save Yourself
, blending intelligent lyrical writing with beautifully reserved instrumentation.
(self-released, no address provided)